Modern Bedding – Choose The Best Sheets & Blankets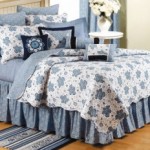 Bedding is defined as the material laid on top of the mattress. It typically consists of:
A flat or fitted sheet covering the

mattress

;

A flat top sheet;

A blanket quilt or

duvet

(sometimes this duvet can be used in place of the top sheet);

Pillows and pillow cases
This guide addresses a buying guide to sheets and blankets.
Sheet Buying Guide:
There are many factors that should be taken into account when purchasing the most suitable sheets. Too many people leave out the essentials, e.g. focusing on thread count is but one part of a bigger picture to find the sheet that is right for you. Refer to the checklist below before venturing out to get that perfect sheet:
Thread Count – This is a good place to begin. The thread count refers to the number of horizontal (weft) and vertical (warp) threads per square inch of the sheet. A common rule of thumb is the higher the thread count the denser and smoother the sheet will feel. But remember thread count is but one metric when choosing a sheet. Over the years mass marketing has simply used a high thread count factor to convey higher quality to customers but the facts are that a 250 thread count sheet can feel much superior to a 1000+ thread count sheet. There are many loopholes available to sheet manufacturers where they can quote a high thread count but deliver a product that is inferior to customers. A way to avoid this is to combine the thread count factor with other critical ones when choosing your sheets;
Fiber Quality

– This refers to the softness, durability and natural comfort of the fibers that make up the sheeting fabric. Cotton is the most commonly used fabric and the most popular in are Standard or Upland cotton. They are characterized by medium length staple fibers. For an even more superior feel, you can look at the higher quality cottons such as Egyptian or Pima. These are characterized by extra long staple fibers and known for their softness and extra strength. It should be noted that the fiber quality of

silk sheets

is also very popular and luxurious for users. Please see reference below on silk bedding;
Yarn Size – This refers to the fineness of each yarn that make up the thread count. As an example, very fine yarn can be twisted to create a 2-ply yarn which can then be woven into high quality sheeting. The higher the yarn size the finer the yarn. The finer the yarn the softer and lighter the resultant fabric. For high quality sheeting, yarn size is between 40 and 100;
Finishing – After the sheets are woven, finishing is a major factor that marks a quality product. Singeing is necessary as it burns off the fine fuzz. Also mercerizing is required to strengthen the sheet and make it adaptable to dye. Poorer quality sheets may not go through this process;
Dimensions: Take note of your bed and mattress dimensions before you buy sheets. Measure the length, width and height. Make sure with respect to the height you measure the mattress thickness and the distance from the top of the mattress to the floor;
Silk Sheets –
Silk Sheets are more expensive than their compatriates in the bedding industry. If you wish to spend more for that enhanced sleeping experience by all means go ahead. Below are some helpful points on the benefits of silk:
Your Mind – When you think of silk you immediately think of luxury, comfort and sensuality. Since your sleep comfort enhances your entire sleep expereince the mere fact that you know you are on such a luxurious material can lead to greater relaxation, feelings of content and peace;
Keeps you cool and keeps you warm – As strange as this sounds, the nature of the material allows for your skin to breathe during the warmer months but hugs you closely in the cooler months;
This type of bedding is perfect for those with allergies. Silk is a naturally occurring material and thus no manmade materials have adversely affected it as well as the fact that all those bed mites avoid this material;
Silk is a fire retarder and is interestingly enough highly recommended for babies and small children;
Silk as opposed to other material can benefit your skin as it is not harsh but rather smooth to touch. This allows your body to fully enjoy the sleeping experience and may reduce the occurrence of wrinkles.
Blankets:
When going out to purchase that blanket be sure you know what you will be looking for and for what purpose it will serve. Be sure to consider the following:
The degree of warmth you are looking for from your blanket;

Storage in months it may not be used;

Dimensions in relation to your bed;

Any allergies you may have (e.g. some people are allergic to wool)

What is your desired color/shade to match your other bedding materials or your room?
Types of blankets to consider –
Fleece

Cotton

Wool

Electric

Down
1. Fleece – Commonly made from polyester and other synthetic fibers. It is often soft and warm and great material for blankets, throws or for keeping small children warm;
2. Cotton – This is the most commonly found material on the market and fits all levels of a buyers budget. Its popularity leads to benefits in finding the color, design and quality that addresses your needs the most;
3. Wool – This type of blanket carries a long held tradition comfort and warmth that makes it a favorite amongst consumers. However a lot of people are allergic to this material and you should ensure that you will be okay with it as well;
4. Electric – This type of blanket has gained a poor reputation over the years as carrying the risk of electrical hazards, being dull, boring and an unattractive choice. This could not be further from the truth. These balnkets are practical, fun and come in an array of styles and colors that can enhance any bedroom;
5. Down – These blankets can be filled with many types of materials from man made to goose feathers. They are wonderful for warmth and comfort and are renowned for their luxury. The price tag on some of these may be hefty but are certainly worth it for the service it can give you.
var _gaq = _gaq || []; _gaq.push(['_setAccount', 'UA-23027761-1']); _gaq.push(['_trackPageview']);
(function() { var ga = document.createElement('script'); ga.type = 'text/javascript'; ga.async = true; ga.src = ('https:' == document.location.protocol ? 'https://ssl' : 'http://www') + '.google-analytics.com/ga.js'; var s = document.getElementsByTagName('script')[0]; s.parentNode.insertBefore(ga, s); })();